Mongolia - Desert Gobi
Elaboration of a World Heritage Nomination Desert Landscapes of the Mongolian Southern Gobi
The Mongolian Gobi desert is outstanding at a global scale due to the combination of extent, diversity and pristiness. The Mongolian Great and Small Gobi host an extraordinary representation of critical populations of rare animal and plant species as well as an enormous range of intact desert landforms and features. The government of Mongolia submitted the "Desert Landscapes of the Mongolian Great Gobi" to the tentative list of the UNESCO World Heritage Convention already in 2014. The Ministry of Environment and Tourism of Mongolia requested the support for the elaboration of a sophisticated nomination dossier to the UNESCO.
The nomination of the Mongolian Great and Small Gobi shall close one of the few major gaps in the world heritage convention. Simultaneously it shall encourage national decision-making bodies to invest and further improve management and protection of these outstanding landscapes and ecosystems. Moreover, it can support the allocation of further and additional funding to maintain the conservation regime.
The major target group and beneficiaries are the teams of at least three protected areas and the local communities living in and around the protected areas. The project team intends to involve a large range of scientists, NGOs and civil society to encourage commitment and to excavate the huge and long-term data- and knowledgebase on species and ecosystems of the Gobi.
Therefore, we involved several renowned organisations into the project team, namely the International Takhi Group Mongolia (ITG), Mongolian Bird Conservation Center (MBCC) and the Inland Norway University of Applied Sciences, Department of Forestry and Wildlife Management (INN).
In the course of the project major threats to the environment and species and to the integrity of the future property will become analysed. It is envisaged to initiate processes to overcome these identified threats. That shall contribute to a long-term and consolidated conservation strategy of the "Desert Landscapes of the Mongolian Southern Gobi".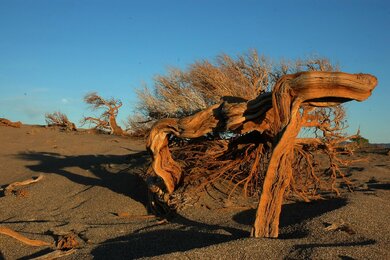 Desert Landscapes of the Mongolian Southern Gobi
Elaboration of a World Heritage Nomination Desert Landscapes of the Mongolian Southern Gobi
Location: Mongolia
Duration: May 2023 - April 2025
Contact person