Sensing Peat
The network project Sensing Peat takes up the momentum of the international Venice Agreement for the worldwide protection of peatlands and develops the resulting global network together with its partners. Following the Paris Agreement, an international treaty on climate change, the Venice Agreement from 2022 draws attention to the preservation and restoration of peatlands for the benefit of the climate.
In collaboration with partners Ensayos and Wildlife Conservation Society Chile, Sensing Peat intensifies the exchange among participants and involves other local artists, activists, groups and initiatives who see themselves as guardians of their peatlands and the ecological, social, political and cultural values associated with them. Together, methods are developed that support people and their heterogeneous companion species to dedicate themselves to the history, future and uniqueness of their peatlands.
The Sensing Peat network focuses on artistic, activist and ecological forms of knowledge and narratives on peatlands. The project aims to create a nomadic platform that programmatically develops methods of collective learning, being-in-motion, pausing, resisting, and restoring – and is dedicated to pluralizing cultural and artistic perspectives. The Sensing Peat network's modus operandi is collective, transformative, sustainable, and emancipatory, dedicated to the development of eco-fictional practices. These are inspired by the interdisciplinary participants, continuously evolving and at the same time flowing back into the community as metamorphing collective bodies of knowledge.
Through a series of events, workshops and an interactive online platform, Sensing Peat, together with its partners Ensayos and Wildlife Conservation Society Chile, will bring visual art and peatland conservation closer together, linking artistic narratives with ecological and scientific questions. The network aims to reveal rather local, invisible and unknown knowledge about the usefulness of peatlands as ecosystems as well as about the far-reaching consequences of their colonization. In the spirit of the Venice Agreement, Sensing Peat is informed by a fundamentally decolonial, hydrofeminist, more-than-human, and socially aware ecological perspective. Aesthetic perspectives on peatlands facilitate a collective societal learning process about the global consequences of their drainage and reveal visions for peat-friendly and wet farming practices in times of climate change. Last but not least, artistic imaginaries around the peatland evoke new interest in transitional states and co-habitations between planetary organisms.
Sensing Peat
Places: International
Duration: 2023 - 2025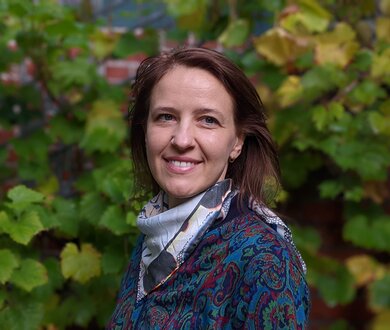 Project coordination
Juliane Tübke, Beneath the Meadows (200823), 2023, photograph, dimensions variable