PEATLAND CONSERVATION AND CLIMATE PROTECTION
Peatlands occupy only 3% of the world's land area, but their peat - at 500 gigatonnes - contains twice as much carbon as the total biomass of all the forests on earth. However, peatlands drained for agriculture and peat cutting release disproportionate amounts of greenhouse gases and exacerbate the climate crisis. They also are important habitats for species that are adapted to humid conditions, but threatened. Wet peatlands retain pollutants and regulate local climates and water supplies. Drained peatlands can be rewetted and used sustainably in an innovative form of agriculture, paludiculture, simultanouosly creating new jobs in rural regions.
This makes peatlands important for climate protection, biodiversity, other ecosystem services and economic development. The protection and conservation of peatland is not an end in itself for nature, but serves the basis of human life.
This is why the Succow Foundation has been committed to peatlands since its very start, worldwide and on its own doorstep. In numerous projects it combines planning and implementation with research. A basis for it is the landscape ecology of peatlands with its hydrogenetic peat types, which the founder of the foundation, Michael Succow, developed to a considerable extent.
In order to be able to promote the significance of peatlands in politics and practice, the Succow Foundation, together with the University of Greifswald and the Association for the Sustainable Development of Natural Areas on Earth (DUENE e.V.), founded the Greifswald Mire Centre. It is the interface between science, politics and practice in all peatland issues - locally and worldwide - with 50 peat experts of all kinds at one location.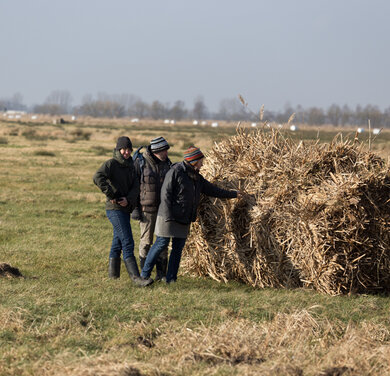 MoKli
Applicable solutions for climate compatible peatland use, model regions and the "Moor-Klimawirt"- that's what MoKli is working on